If you would like to join the DLOC,
please visit the Club's website
https://www.dloc.org.uk/
Please
don't post someone's email address
. Some people don't want to risk it being harvested by spambots and GDPR regulations discourage it.
Always look at
"ACTIVE TOPICS"
which gives all posts in date & time order if you can't find a post as topics are sometimes moved; or look at "Your Posts".
Reg. nrs.
Please add reg. nr. when posting a photo or anything about a car as this will help searches. Don't add punctuation next to nr. as this negates search.
Posts: 29
Joined: Mon Jun 11, 2018 10:10 pm
Location: tyne and wear
Changing from solid to wires, got the front ones done in a day. Started the back ones,and a week later no further forward. Got my 3 prong puller mounted on the hub with maximun pressure on, cant get anymore
. Had Oxy/Acet heat on, and 2 big hammers, NO RESULT. Have I got everything off (no consealed nuts), because its really solid. So/ can I hire a proper puller??. Can anybody HELP
---
Posts: 279
Joined: Wed Mar 16, 2016 6:40 pm
Location: Cheshire
These can be a real swine to get off. In the end I took my whole axle off and took it along to an experienced classic Jaguar workshop . Believe it or not, even they broke their forged puller doing the job, but did in the end get both hubs off. Taking the axle off is probably the easiest way . The other thought is to leave it for a prolonged period with the puller under heavy tension BUT make absolutely sure you leave the nut on the halfshaft but not fully tightened up, so that the hub and puller cannot launch itself across your premises with lethal consequences

Incidentally, you need bigger hammers than those ! The best BFH for jarring this sort of thing loose is a 15 lbs sledge

If all else fails I am sure you can hire a suitable puller from the Jaguar Enthusiasts Club - Ken Jenkins is I think the man who runs the scheme
---
Posts: 549
Joined: Wed Sep 05, 2018 9:55 am
Location: Ridgewood - East Sussex
Contact:
You will be wasting your time with that type of hub puller for the rear units, I regret to say.
The suggestion pitched by Chris is spot-on and I had to do exactly that - took it to an independent Jag dealer who was more than happy to assist; perked his day up by dealing with a real bit of engineering. He used a state-of-the-art Jag puller, it still took some force but they did pop eventually.
Bottom line is that I would never have got the hubs off on my own - I would still be there now. Charged me £50 but it would have been cheap double that price !!!
You could try this but to be honest is it really worth the chance, probably no.
https://www.ebay.co.uk/itm/vidaXL-11-Pi ... SwMFFbsJO-
With the axle dropped, it does give you additional opportunities to carry out other repairs etc that might be hampered with the axle in situ.
Lets face it, you are half-way there for removing it.
Good luck.
Richard.
1968 Daimler V8-250 Saloon
DLOC East Sussex Area Representative.
Southern Classics Society Events Co-ordinator.
www.southernclassics.org.uk
---
Posts: 29
Joined: Mon Jun 11, 2018 10:10 pm
Location: tyne and wear
So , can the Church Hill tool JD1, be hired, or bought from anywhere, does the DLOC have one ???
---
Tried many pullers without succes. I have cut the nuts at the rear and pulled out the hub and the half shaft. Then it was easy to use a 20 T hydraulic press.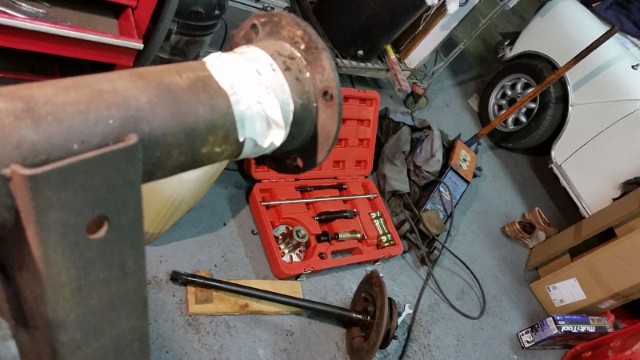 ---
Posts: 29
Joined: Mon Jun 11, 2018 10:10 pm
Location: tyne and wear
Hi lom 13,
The red plastic box holding a pulling kit on the floor in your photo ,is what I have been looking at on Ebay, was it any good?? Does the half shaft come out easy once the nuts are cut, my axle is insitu
---
Posts: 388
Joined: Fri Feb 12, 2016 8:44 pm
Location: Derbyshire
A friend once told me that when he needed to remove the hubs from his Majestic Major a local garage told him to undo the hub nuts half a turn and then go for a drive on a twisty road.
About five miles later there was a loud bang followed by a second. Both hubs had come free. A steady drive home soon had the job finished.
Obviously not a job for the faint hearted and to be done with extreme caution but didn't require removing the axle and a big press.
---
guitarman1951

wrote:

↑

Sun Apr 07, 2019 8:51 pm

Hi lom 13,

The red plastic box holding a pulling kit on the floor in your photo ,is what I have been looking at on Ebay, was it any good?? Does the half shaft come out easy once the nuts are cut, my axle is insitu
Hi guitarman No this 10 tons hydraulic puller blown with no effect on the hub. And yes the half shaft comes easily after cutting the nuts.
---
Posts: 114
Joined: Tue Mar 15, 2016 3:00 pm
I have a five leg hydraulic puller which worked well.It bolts onto the wheel studs. It cost £70 from eBay but I would sell it for £50 plus carriage.
The three legged screw puller pictured above has no chance at all - you need a hydraulic one.
The big thing is DO NOT HIT THE PULLER NUT WITH A BIG HAMMER. All you will do is wreck the hub bearings, the diff or the axle casing.
Wind up the puller as tight as you can and apply plenty of heat to the hub. Use a hammer and tap round the ring that holds the wheel studs, keep spinning the hub and hitting the ring continually tightening the puller if possible as you go. The puller on its own will probably not remove the hub but with the hammer taps it will.
The hammer strikes must be towards the centre of the ring and if possible use two opposing hammers at the same time - like you would do removing a track rod end.
---
Posts: 39
Joined: Mon Feb 22, 2016 11:00 pm
Location: Shrewsbury England
Hi , I had to remove my axle and take to an engineering company and they had two blokes working on it who took three hours and it finally released the hubs a 40 yes 40 tons pressure on the one side and slightly less on the other, I had the axle rebuilt by Central Axles of Birmingham and they recon I had done the hardest part of the rebuild, they use mult-leg pullers and load the puller,heat the hub with localized heat reload the pressure on the puller, loads of rust penetrant leave loaded for a few days,repeat the process again and again and still it can take a few weeks. yep it's a b****r of a job.
---