We got the Lanchester to not only run properly today, but to also drive forwards and backwards under it's own power!
The problem was not one we expected at all. A reader had suggested the blowing exhaust could cause the issue and he was correct! We'd gone through and checked all the other items and everything appeared to be as it should be so the last thing to do was check we had sparks on all four plugs (that's the flashing lights in the video) which we did, and to seal up the blowing exhaust better. Astonishingly, sealing up the blowing exhaust made the biggest difference, we assume the engine needs the back pressure provided and without the length of the system it simply wasn't getting enough. Unfortunately, as you can see in the video, the car bogged down and stalled and though we could restart it, the problem is with the union on the carburettor.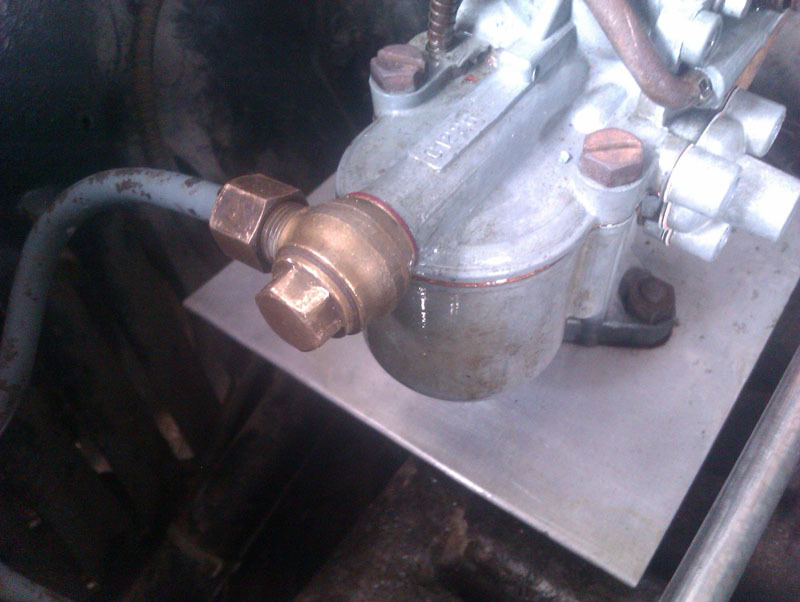 The union is as tight as it will go but leaks from the fibre washer between the banjo bolt and the carburettor body. This is disappointing. The helicoil is doing its job and the bolt is as tight as it will go so we're wondering if a thicker or second washer will seal up the gap and allow to seal properly. We also wondered if it was something to do with the float. We had the float bowl off, made sure everything was cleaned out and moving freely where it should and could find nothing amiss, so it seems more likely it's just the union between the carburettor chassis and the banjo bolt.
That said, it was brilliant to actually finally move the car under its own power, we now know first and reverse on the gearbox work and hopefully it's safe to assume the other gears work too. We didn't do a compression test because of the leaking carburettor issue, though we plan to do that once we've fixed the leak, just so we know what the compression figures are actually like on this engine as a reference point. Because of the fuel leak and the exhaust bodge starting to fail meaning the engine wouldn't idle as well as it was, we opted to push the car back into the garage, which is when the tyre pump decided to die and I can tell you that pushing this car with two flat tyres is not fun at all.
Still, today was a fantastic day. We're now pretty confident the engine and gearbox will be fine and we can focus on getting the new tyres etc. on just as soon as our schedules allow.